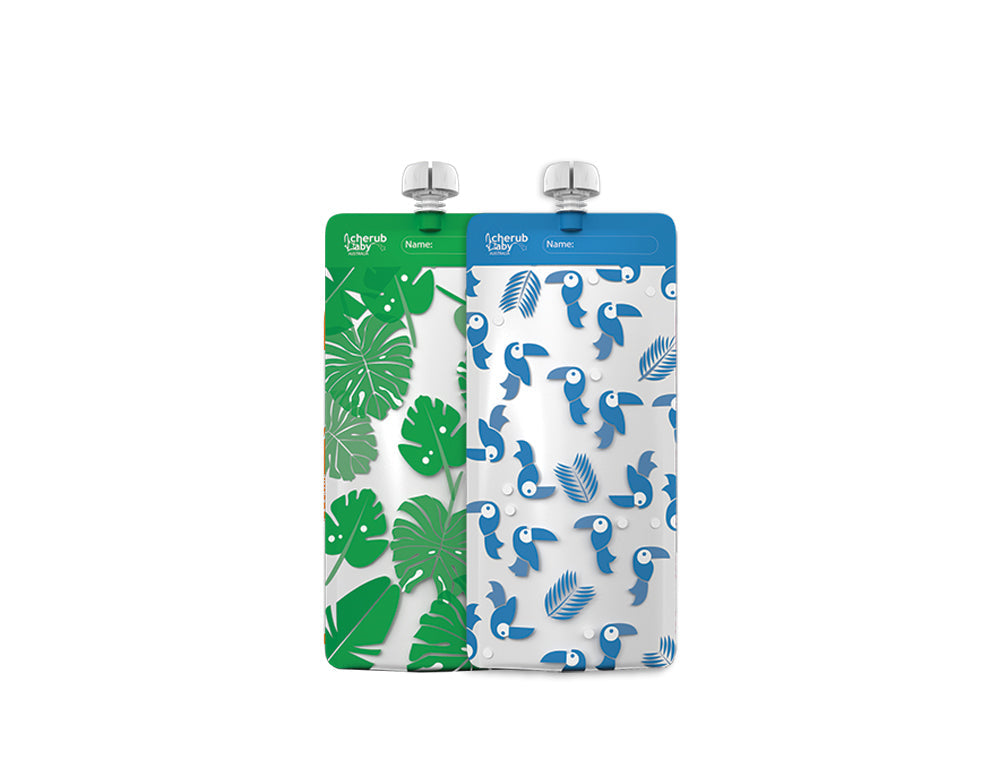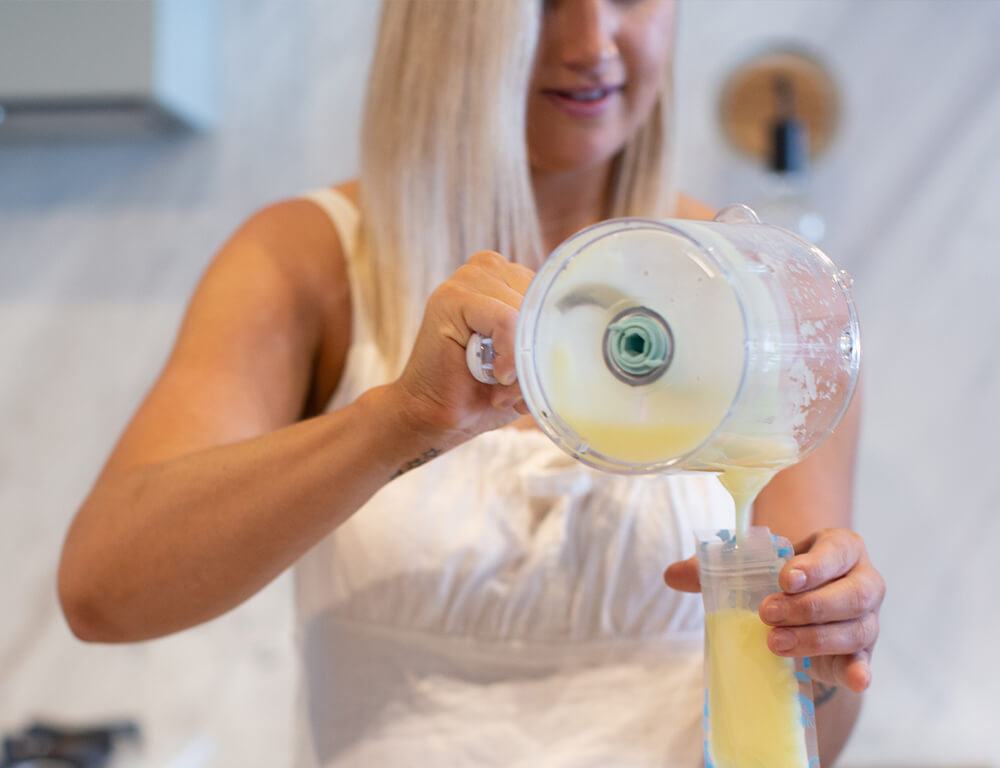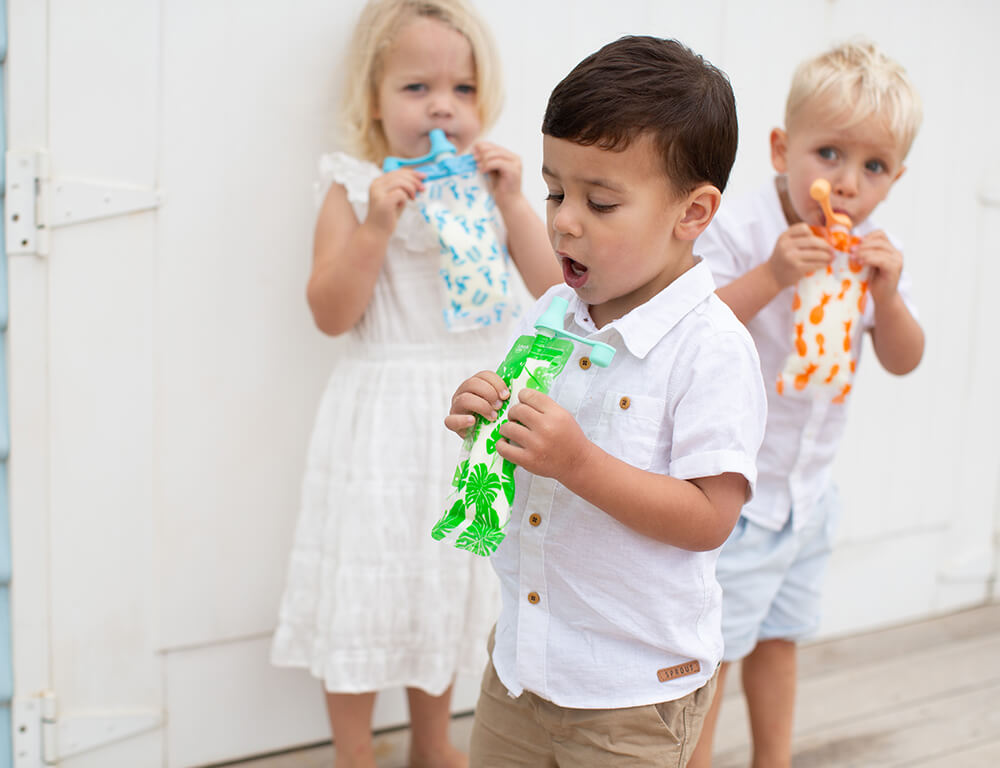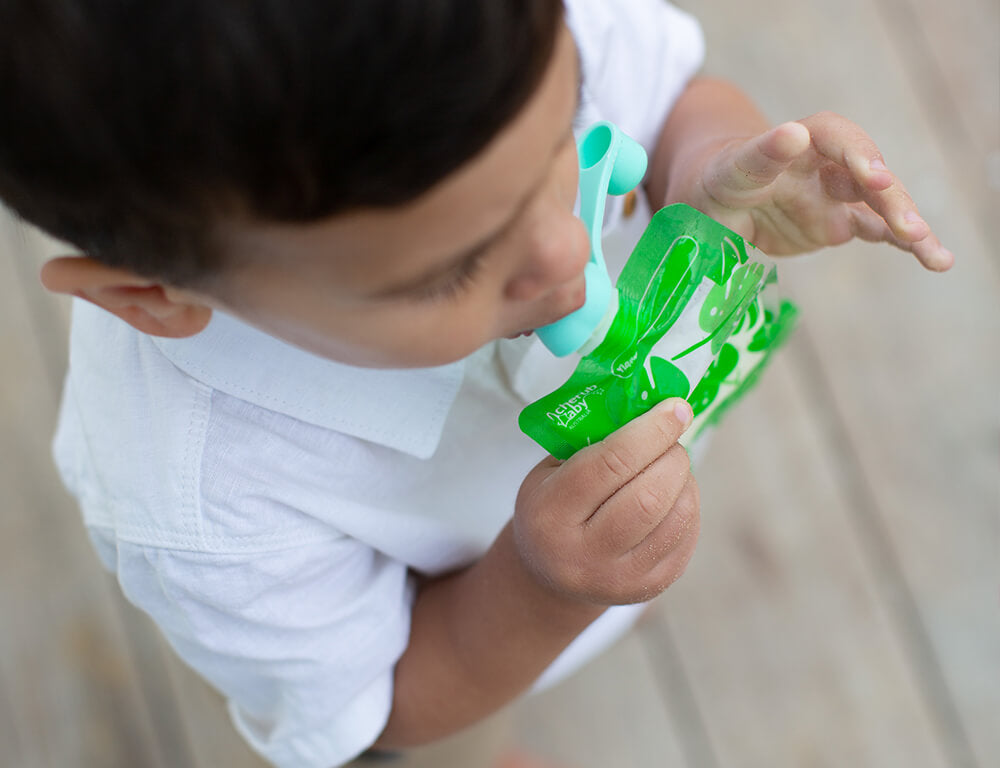 Cherub Baby On the Go Food Pouch Maxi's 10 pack
Regular price
Sale price
$16.99
Unit price
per
These 180ml reusable and durable on the go food pouches are your secret weapon for baby's weekly meal prep. Available colours are: Toucan Blue or Rainforest Green.
In stock
Express Shipping Available
Click & Collect and Same Day Delivery Available in Sydney & Perth (select at checkout)
Buy now, pay later with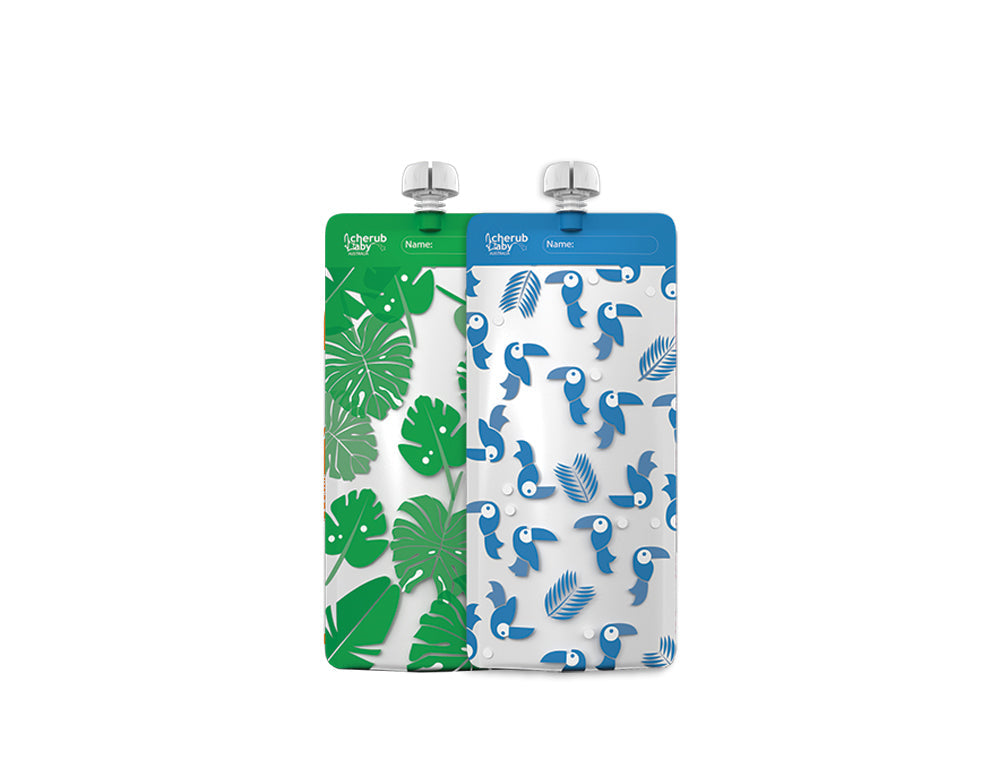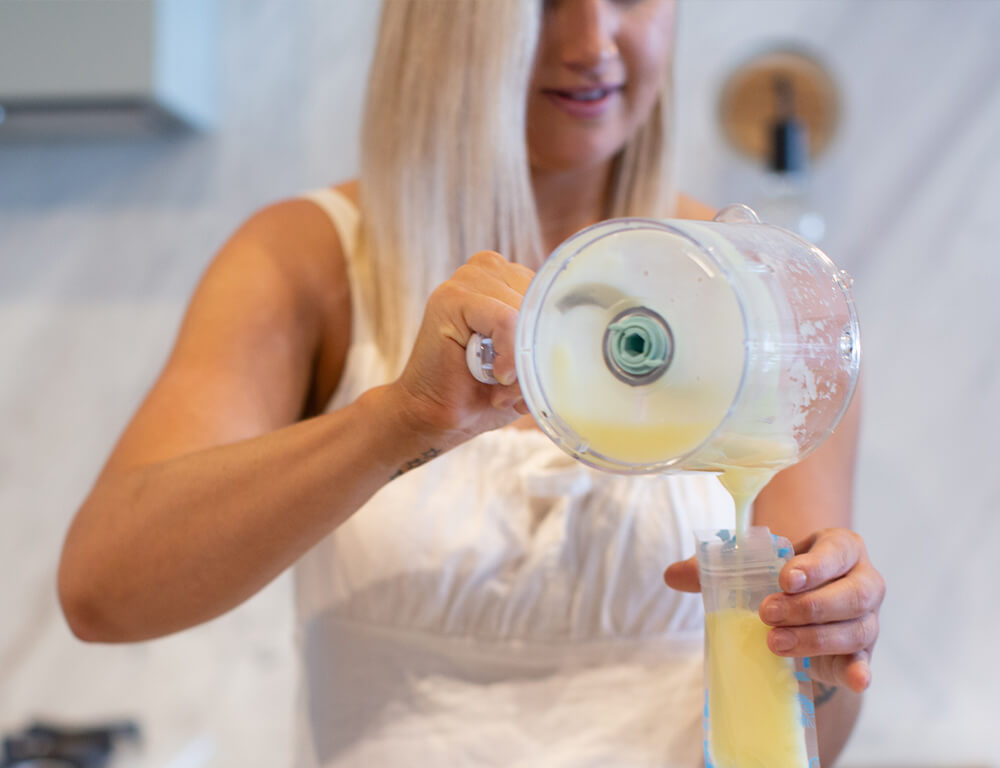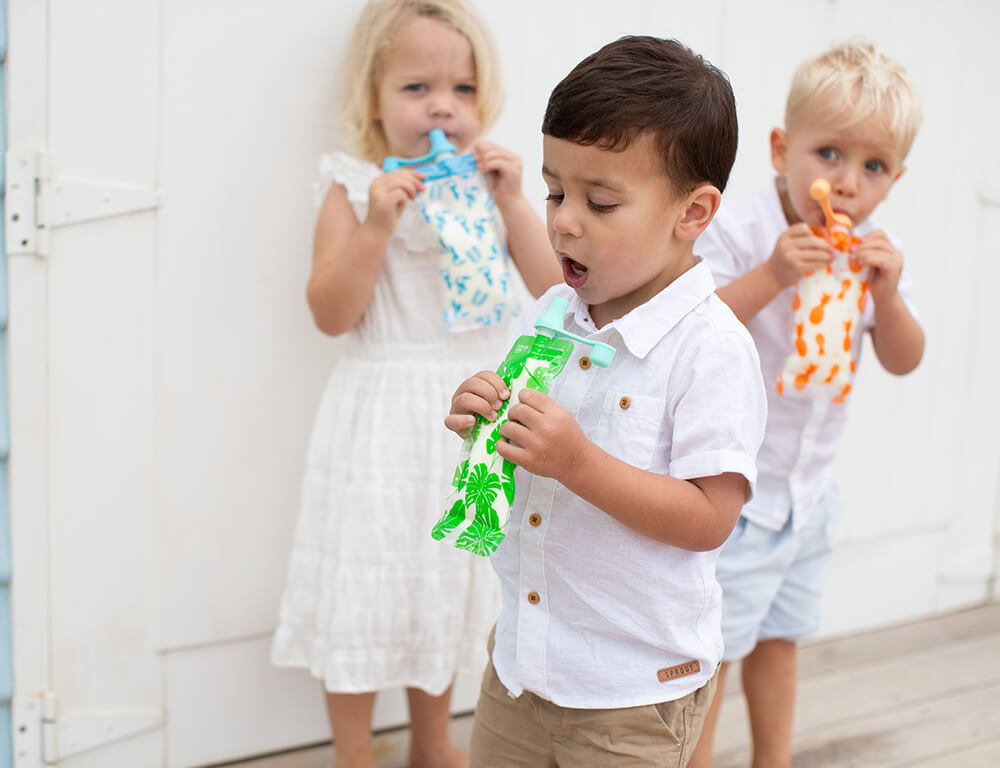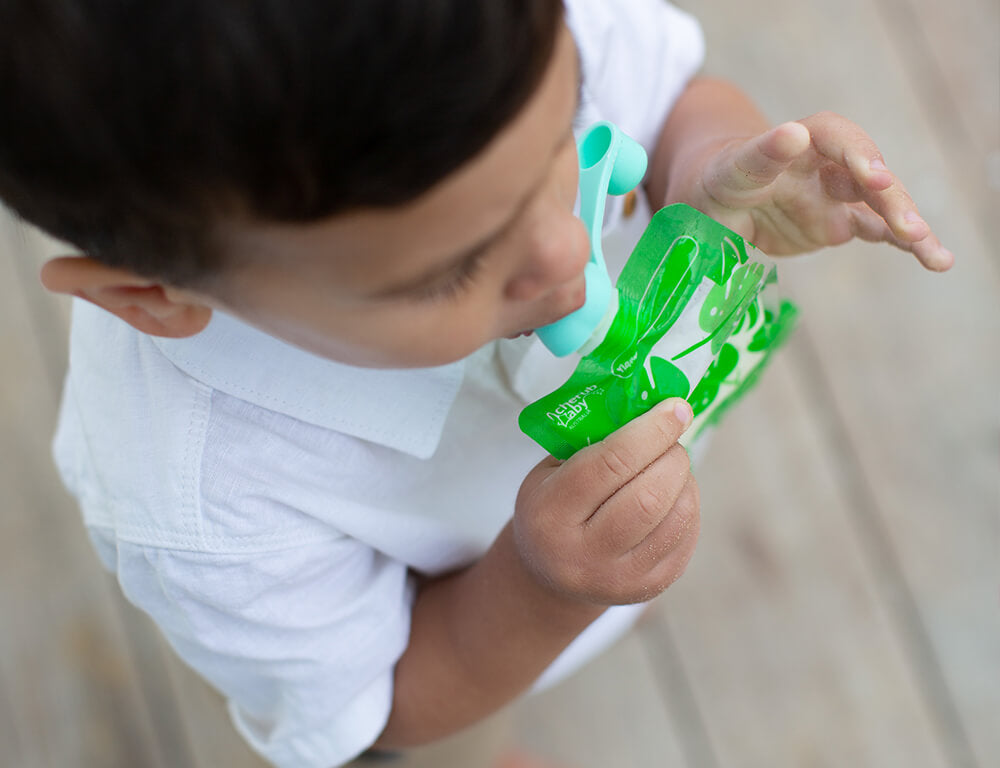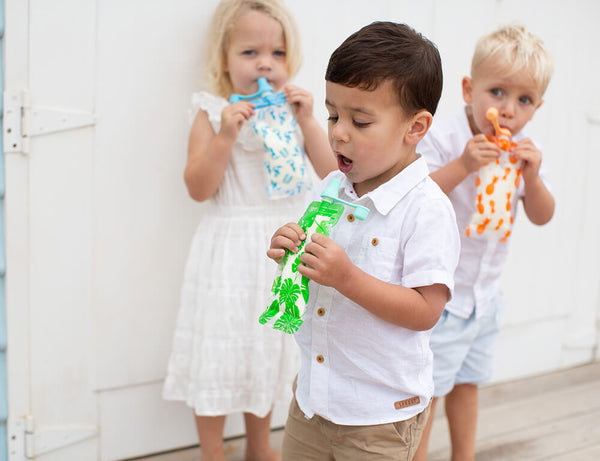 Cherub Baby On the Go Food Pouch Maxi's
Want to take the hassle out of your little one's meal prepping? Here's a meal prep idea! With our reusable food pouches, you get a storage solution to make meal prep sessions fast, simple, and fun! You can prepare your healthy homemade baby food and pour it into the food pouch before sealing, freezing, and storing it. When your little angel is ready to eat, simply take it out, warm it, and it's ready to serve!
This way, you get the convenience of meal prepping for your toddler! Our On The Go Food Pouch Maxi's are also BPA and BPS-free and 100% safe for your little one to use.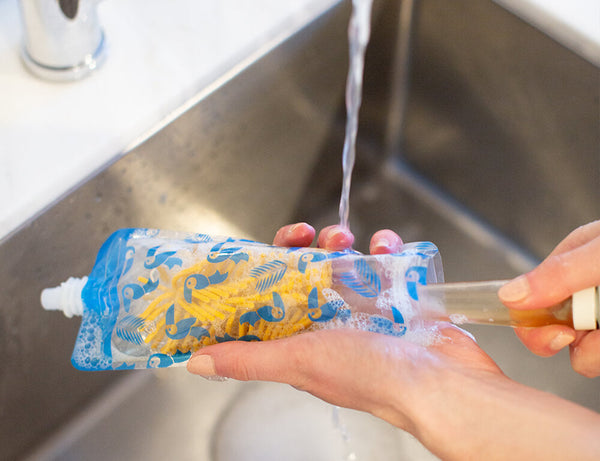 Easy to use and mess free
Our On The Go Food Pouch Maxi's are 180ml in size would be perfect for older kids too! Designed for toddlers and older kids, they are ready to use and easy to clean and reuse. All our food pouches are also dishwasher safe. They are designed to be thick, strong, and durable, featuring an anti-leak double Ziplock that will ensure your little one can keep using them for a long time.
What about the mess? If a no-mess feeding session is what you are after, these reusable food pouches will also work like magic for you. They are particularly great for older babies learning how to feed themselves. Simply attach one of Cherub Baby's food pouch spoons, and you'll be able to serve the food straight from the pouch!
The On The Go Food Pouch Maxi's is reusable, cost-effective, environmentally friendly, and designed to make your little one's life easier.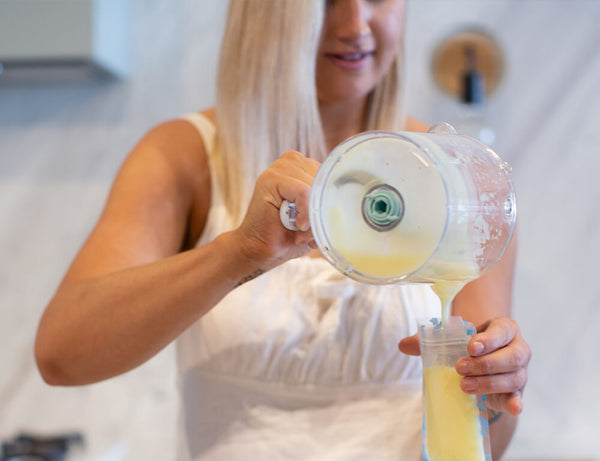 Features
You can use the On The Go Food Pouch Maxi's when the baby is four months old through toddler years and beyond.
The extra-strong design makes it reusable
It has a wide opening that makes it easy to clean and dishwasher safe
Includes a name label and measuring guide
The On The Go Food Pouch Maxi's has an anti-leak double Ziplock feature.
Large anti-choke safety caps included.
Bottle Warmer and Freezer safe
They are transparent, making them easy to check if they need cleaning.
Designed for anywhere, anytime use
Entirely BPA, BPS, Phthalate and PVC Free
Size: 180ml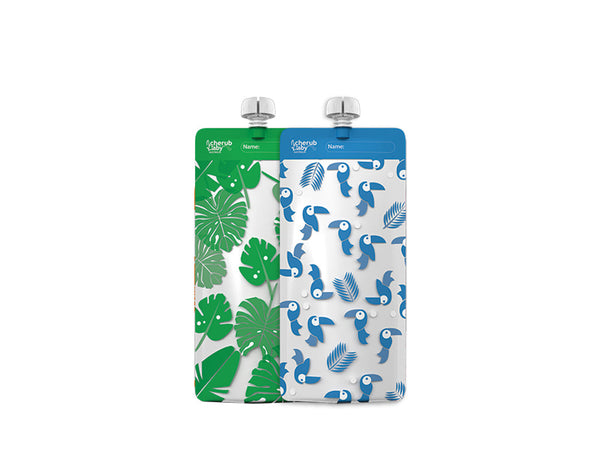 What's included
5 x Toucan Blue Print Reusable Food Pouches
5 x Rainforest Green Print Reusable Food Pouches
10 x large anti choke safety caps.
FAQs
Can I heat the pouches?
Absolutely! Pop them in a pouch warmer, an electric bottle warmer, or the "good ole fashion" method of warming in hot water. While we do not recommend microwaving the pouches (it creates hotspots and reduces the product's lifespan), we understand that sometimes it's easier. We suggest warm/defrost at a low setting, ensuring you shake the pouch regularly through the warming process to avoid hotspots.
How do I store the pouches in the fridge/freezer?
With our pouch organiser, of course! It is designed specifically to keep our food pouches organised and tidy and your fridge/freezer clutter-free!
Can I recycle the pouches?
Absolutely! Recycle our food pouches in soft plastics recycling bins (conveniently located at major supermarkets). They'll be processed and converted into playground mats, outdoor park benches and more!
Can I repurpose the food pouches?
That's one of the best things about these baby and toddler food pouches; they are so versatile! After the kids have stopped using them, you can store soups, sauces, energy gels, sunscreen and lotions. The list goes on!
How do I clean and reuse the pouches?
Simply pop them in the dishwasher with the ziplock open, or wash with a bottle brush and rinse.
These reusable and durable on-the-go food pouches are your secret weapon for your baby's weekly meal prep. An ideal gift idea for the mum who loves to be organised. Available in BabyHeart while stocks last. 
BabyHeart Best Sellers
We have products designed and tested by real mums to take you from pregnancy and beyond. Can't find what you are looking for? Get in touch with our friendly staff for assistance